News
---
eRacks is proud to donate a 2U aluminum rackmount server to replace the old web/mail server currently in use by OCLUG. It was built from New Old Stock parts, and installed with RedHat Linux 9. It represents at least a 4-fold increase in server capabilities for OCLUG.


---
Coming Soon: Southern California Linux Expo!
OCLUG will be running a booth at the upcoming Southern California Linux Expo.
SCALE 2x will be at the Los Angeles Convention Center on November 22.
If you would like to help out with the booth, or attend the Expo you can contact Steven at pagedev1@speakeasy.net
.

---
OCLUG Polo Shirts!!
We have finally arranged to get custom embroidered polo shirts made up for our group.
They will be worn by the volunteers at Linux Demo Day, but they can be useful for other things as well. You can wear one to work on "casual" days, or to school if you go, or to the meetings of course.

Currently we are ordering only grey shirts, but after Linux Demo Day we will get together another batch of orders and get other colors, and the choices will be announced then. If you would like to order one, and are part of the group, please email us and let us know.


---

These are photos of one of the shirts to show how they turned out. Quite good I must say. ;)


OCLUG Polo Shirt- Grey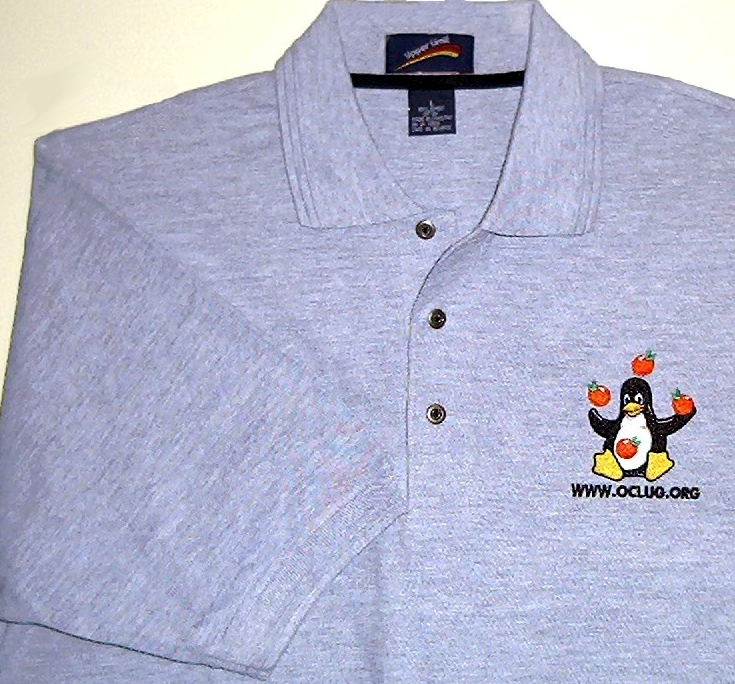 OCLUG Shirt Logo closeup
Here you can see the quality embroidery! :)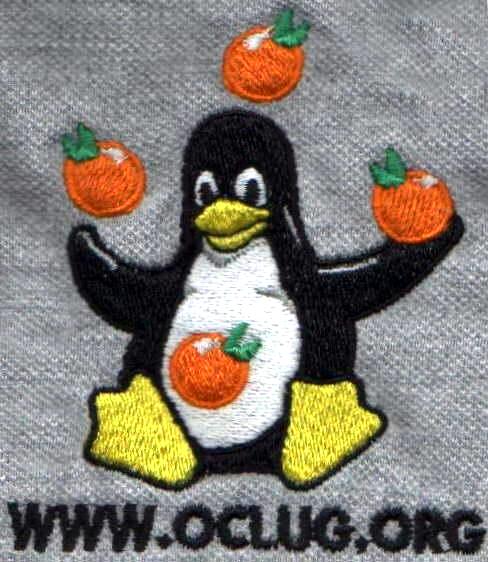 ^ TOP ^
---
Mail server news:
We now are running the mailing list on our own listserver!
It is run on the same Linux machine as the website, and the software used is Mailman.
Many thanks go to Kevin B. our leader, Todd L., and Steve S. for setting this up for us.
Please SUBSCRIBE to the list.

We have just added two new mailing lists to our new list server:
oclug-devel: programming discussion
post to: oclug-devel at oclug dot org

oclug-recycle: to share items for sale or trade
post to: oclug-recycle at oclug dot org

The subscription process is the same as our main mailing list.
Logon to: subscribe

---
At one of our previous meetings there were two demonstrations:
Cecil Watson - Digital Cameras and Linux: Using gPhoto
Kevin Brouelette - Icecast MP3 streaming
Be sure to attend. These demos were scheduled for last month's (June) meeting but because of various reasons they had to be postponed to this month.

Last month we did have a very well received demonstration:
Todd Lyons - Qmail and LDAP
---