Directions:
From I-57:
Exit on Nutwood Ave. Proceed west towards State College Blvd. CSUF is on your right.

From I-5:
Transfer to 91E, continue until State College Blvd. exit.
Head north on State College to CSUF, which will be on your right.


Park in the "C" or "D" lots. McCarthy Hall is East/Northeast of them.
Lot "C" is accessed from Nutwood, use the last driveway just before State College.
Lot "D" is accessed from State College.

Head East from the lots towards the buildings on campus. Once you are on the campus, you will see 2 buildings in close proximity, McCarthy hall is north, it is well marked. Go into the entrance hallway, past the vending machines. The hall to the right has the elevator, go to the 6th floor. Room 606 is to the left, and restrooms are to the right ;-)

There is no parking fee on Saturdays.

Somebody bring coffee and donuts!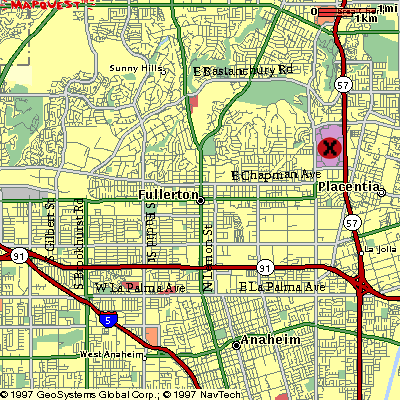 You can go here for a closeup map of the CSUF campus.
McCarthy Hall is towards the bottom, marked "MH", with a bluish tint added over it and a line pointing to it from the legend.
The best parking is in Lot C or Lot D, at the bottom left corner, with reddish tint over them, at the intersection of State College Blvd. & Nutwood Ave.
| Top |

---